Power Up Products

Power Up Fuel Additive---Gen49D

Gen49D Fuel Additive is a sulfur-free lubricant designed to synergize with new generation,hydrotreated diesel fuels. It provides complete fuel system protection from corrosion inhibition in the fuel tank, through to lubrication of the fuel pump, deposit control in the injectors and lubricates the compression ring from the fireside of the combustion chamber. This product provides all diesel and gas engines with extra fuel lubricity, corrosion protection, and deposit control. And it also improves low temperature fluidity of diesel fuels.

Special features: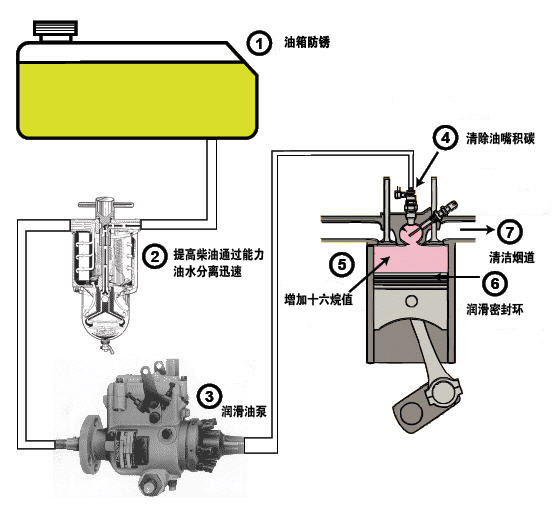 Provides optimum lubrication from the fuel pump to the combustion chamber
Inhibits corrosion in the fuel tank and fuel lines
Improves low temperature fluidity to help prevent gelling
Sulfur-free, not alcohol based
Controls injector deposits
Improves exhaust emission quality
Increases equipment availability and extends fuel pump and engine life
Function:
Inhibits corrosion in the fuel tank
Prevents diesel fuel from gelling
Improves low temperature fluidity
Superior anti-wear protection for fuel pump
Controls injector deposits and lubricates plungers
Applications: Gen49D Fuel Additive should be added with each fuel fill at the rate of 0.04%.In the summer conditions, the maintenance dosage may be lowered by 50%.In the winter conditions, the regular dosage is required at the rate of 0.08% for the anti-gel component to be effective.
Technical Data:
Property
Method
Result

Appearance
 
Clear, light amber liquid
Color
ASTM D1500
3.0
Flash Point(COC)
ASTM D92
76℃
Pour Point
ASTM D97
-40℃
Density
ASTM D941
0.925g/cm³
Ash Content
ASTM D482
0.004% by wt
Viscosity @40℃
ASTM D445
5.8cSt
BOCLE Fuel Lubricity
#2 Diesel
Diesel & 800PPM Gen49D
ASTM D5001

0.615mm
0.510mm
Pour Point
#2 Diesel
Diesel & 800PPM Gen49D
ASTM D97
-19℃
-31℃
MSDS
Information PDF Document
To learn more about these products (Power Up) Please feel free to call:0756-8695806 .