Power Up products

Gear Oil Additive--- NNL690G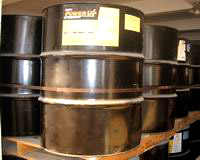 NNL690G Gear Additive is a carefully balanced and formulated gear-oil supplement, which improves the pressure carrying capacity of gear oils during mashing and sliding. Agents in NNL690G Gear Additive form an adhesive coating on the metal surfaces and reduce the friction and wear caused by high load.NNL690G Gear Additive effectively reduces gear operating temperatures and energy consumption.
Function:
Reduces the friction caused by metal to metal contact
Reduces ultrasonic wear noise which relates directly to component wear
Reduces fuel or electrical power consumption
Helps prevent sludge and varnish formation
Increase equipment availability and extends equipment life
Special Notations: A 5% application of Maryn Gear Additive in typical 90 weight gear oil results in little or no change in viscosity or viscosity index of the oil.
NNL690G Gear Additive is formulated to have a negligible effect on the pour point of typical gear oils.
Ash content:NNL690G Gear Additive has a very low total ash content (less than 0.2%). It is therefore suitable for use in the crankcase of engines that require a low ash or ashless oil.
Applications:
NNL690G Gear Additive is intended for use in all types of mobile and industrial equipment where EP oils required.
NNL690G Gear Additive should be applied with each oil change at 5% of the gearbox capacity.With gear oils heavier than ISO 320,Maryn Gear Additive should be used at 3% of the oil volume with each oil change.
Technical Data:
| | | |
| --- | --- | --- |
| Property | Method | Result |
| Appearance | | Clear,light amber liquid |
| Color | ASTM D1500 | L1.5 |
| Viscosity @40℃ | ASTM D445 | 80 cSt |
| @100℃ | ASTM D445 | 8.5 cSt |
| Viscosity Index | ASTM D2270 | 73 |
| Density @15.6℃ | ASTM D941 | 0.99g/ml |
| Pour point | ASTM D97 | -20℃ |
| Flash Point | ASTM D92 | 152℃ |
| Acid Number | ASTM D664 | 1.5mgKOH/ml |
| Zinc and lead Content ppm | | Nil |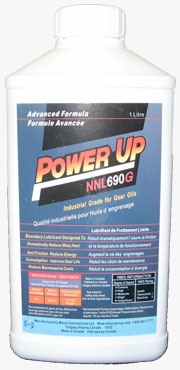 NNL690 and NNL690G
To learn more about these products (Power Up),Please feel free to call:0756-8695806 .
Maryn International Ltd Web site:www.maryngroup.com